08.04.10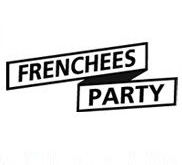 Voici les morceaux diffusés lors de l'émission du 08/04/2010, avec The Frenchees en guest en 2e heure :
Makam - Thank You
Martin Dawson & Andre Chrom - kooky
Akufen - Jeep Sex
Steve Starks - Lydia (Nadastrom's Moombahton Remix)
Hot Chip feat. Bonnie 'Prince' Billy - I Feel Bonnie
Tiga - Overtime (Brodinski Remix)
Sandro Silva, Anjiro Rijo - Fifty What
Booka Shade - Buffer Ruffer
Audio Bullys - Only Man (Reset! Remix)
Kelevra - Swing Beat
Afrojack - Bangduck
Selection by The Frenchees
Daniel Steinberg - Who Stopped The Music
Joy Orbison - Hyph Mngo
Lazy Flow - Mambo Fever (Radioclit Remix - Myd & Mo Laudi Rework)
Sam Tiba - Barbie Weed
Feadz - Hawaian Smurf (Marvy Da Pimp Ghettotech Edit)
R.I.V.E.R - Fairycide
Guillaume & The Coutu Dumonts - Safety Meetings
French Fries - Predator
Justin Martin - Robot Romance
Rusko - Woo Boost (Subskrpt Remix)
[PODCAST] SAMAR TOUCH #99 - Part 1 by Samar Touch Radio Show
[PODCAST] SAMAR TOUCH #99 - Part 2 by Samar Touch Radio Show
[[ http://www.the-frenchees.fr/
[[ Frenchees Party #8, le 17/04/2010 à l'Opus Dancing Hall (Tournai) avec Lee Mortimer, Last Japan, Sharkslayer, French Fries & More...

/// BONUS BONUS BONUS
Cadeau des Frenchees, le dernier mixtape de PeeZz (Tracklist en commentaire), c'est du lourd !
[[ PeeZz - Mixtape Avril (mediafire)

Commentaires sur SaMaR TouCh #99 - Playlist + Mix Bonus by The Frenchees